LCPUSB USB to CAN interface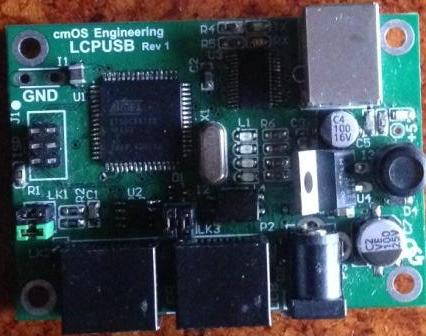 The cmOS Engineering USB to CAN interface is primarily intended to interface between computer/control systems and model railway layouts running Layout Command & Control (LCC).

Power can be injected into the CAN bus or drawn from it.

The LCPUSB is supplied with jumper selectable CAN termination.

User Manual here.

Windows Drivers here. MAC drivers here.

Specifications:
Mechanical
Dimensions
Mounting
Weight
Width: 70mm Height: 60mm
4 x 3.5mm holes
30g - 1.05oz
Environmental
Operating
Storage
-40°C to 85°C; Humidity &lt90%
-60°C to 150°C; Humidity &lt90%
Electrical
Absolute Maxima
Supply Voltage 13.8 Volts
Supply Voltage
Min 7.0V - Max 12.8V; Reverse voltage protected
Supply Current
35mA
Connectors
1 x 7mm Input Power, centre pin positive35mA
2x RJ45 Ethernet Looping Power and CAN ground Jumper Option

CAN Termination
Passive bypassed split resistors (Jumper Option)
Standards
USB 2.0
Maximum serial data rate 333K Baud